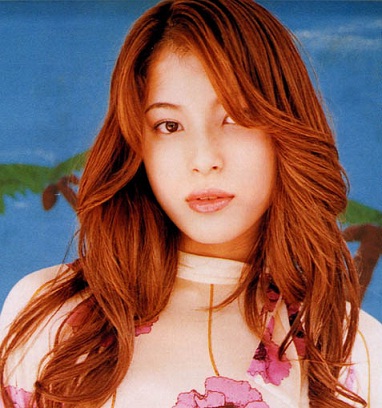 Takako was born on Okinawa in January 14 of 1983. She went to Okinawa Actor School and later became a member of SPEED.
In 1999, she started her solo career with Ryuichi Kawamura (Luna Sea) as her producer. He wrote her 3 first singles with the first one, "
my first love
", as the most successful. The single reached #1 on the Oricon charts. The first week sales was 530,570 copies sold.
In 1999, she also starred in the movie, "Dream Maker" and received the Newcomer of the Year award at the 23th Japan Academy Award.
On July 26, 2000, her first album
First Wing
was released and was produced by Ryuichi Kawamura. She was the first SPEED member to release an original album after the group disbanded. The album debuted at #7 of the Oricon charts and stayed for 5 weeks.
In 2001, Takako release her last single under the Toy's Factory label which was also produced by Ryuichi. She also starred in the dorama, "Beauty 7", that year.
The following year, she moved to Avex's sub label, Sonic Groove, and released her 5th single Kiss you Jounetsu (2002.03.13), an eurobeat track which was a new style in Takako's career. Only 2 month after that release, she released another single entitled
GLORY -君がいるから-
(Kimi ga Iru Kara) which was the ending theme for Fuji TV Anime "One Piece" and sold 27,900 copies.
Takako won 13th Japan Best Jewelery Wearer Awards & Miss Brilliant 2002. In May, she guest starred in Nurse no Oshigoto: The Movie.
In July of 2002 she debuted as voice actress for Digimon Frontier Movie (D'Arcmon character).
On September 19, 2002 she released a ballad "
Air
" written by Kenn Kato and composed by D・A・I (Dai Nagao, former of Do As Infinity). She starred the dorama, "Nurse Man" along with Natsumi Abe (Morning Musume).
Takako was selected to promote Shiseido's campaign Proudia. She was very popular as a model while endorsing many brands such as NTT docomo, NEC, Meiji Seika Kaisha to name a few.
Her 8th single was released on March 12 of 2003. 2 weeks later, shereleased her 2nd original album
pupa
which sold 14,419 copies.
In
pupa
Takako included a song called Shirushi that was written by her and included a new version of
my first love
.
Her 2nd photobook
Vingt Takako
was released on January 13th and included Takako's artistic semi-nude pic. It's was release to commemorate her 20th birthday.
On September 29th,
Teruteru Kazoku
starring by Satomi Ishihara, Juri Ueno, Ryo Nishikido & Takako was aired. She play the role of an idol singer and sang the Ending theme
Bluelight Yokohama
originally by Ayumi Ishida who also works in Teruteru Kazoku. It had 150 episodes with an average rating of 18.9%.
On October 23th, she started her own radio show, Uehara Takako no close to you.
Bluelight Yokohama was released on February 25, 2004 selling 14,265 copies.
On April 6th, a Nurse Man Special aired. The same month, dorama "Tokyo Wonder Hotel" aired as well in which she played the role of Hanaoka. There were only 4 episodes broadcasted in July, November & December which represented the four seasons, Spring, Summer, Autumn and Winter.
In July, the Pokémon - Destiny Deoxys movie was shown in theatres and Takako lend her voice for the character, Yuko. She also promoted the movie in a few variety shows.
Also in 2004, she was a guest in episode 3 in the dorama "Kimi ga Omoide ni Naru Mae ni" which starred Arisa Mizuki.
Takako started to write a diary from September 2004 which was very popular among her fans.
Her last single was released on October 20th as a double 'A' side single, Galaxy Legend/Ladybug.
Galaxy Legend
was used as Anime Uchuu Koukyoushi Maetel ~ Ginga Tetsudo 999 Gaiden Ending Theme and
Ladybug
was the Sagawa Express "Hikyaku cool bin" CM song. Bonnie Pink collaborate with Takako to writte
Ladybug
for her.
In 2005, Friday Magazine published pictures of her with her boyfriend Jin Akanishi from KAT-TUN. It was rumoured that their agencies told them to break up after the pictures were made public. Takako did not work much that year and her music career was stopped.
On September 21th, she starred in a dorama special "Koi no Kara Sawagi 〜Love Stories II〜 Hikikomoru Onna" along Ryu Si Won. Later in October, she starred in her first musical
Little Shop of Horrors
In August 2006, she took part in Tsukuba's festival. Later that month, she released her book
Yuntaku Diary
.
Takako started to host Okinawa Idol show along with comedy duo Cann Cann.
From September 7th to October 6th, she appeared on "Chiisakobe ~wakatouryou hito no ko" dorama. She also had a featured column in a magazine called TAKAKO's steady.
In her radio show, for six months from October 2004, she featured a "Weekly Top Five" theme in which she talked about the rankings and featured a single theme each week.
2007 started with the announcement of her best album départ〜takako uehara single collection〜 and was released on March 14th. It included 2 editions (cd & cd+dvd) and the dvd included all pv's released to promote her singles and also special footage was added. A new song was included too
Itsudatte kimi ga iru
written by Mayo Okamoto. Takako was in 3 events promoting her best album which sold 4,772 copies.
Takako was in some episodes of NTV show Nakai Masahiro Burakkubaraeti & Chimpan News Channel and she was part of voice cast for the Xbox 360 game Lost Odyssey as Sarah Sisulart.
She starred in a few keitai doramas for her agency. On October 26, 2007, she opened an audio and video blog for all her fans.
From February 6th to 28th, she starred in her second musical The Wedding Singer ♪ with much success.
In July, she participated in the TOKYO WEDDING COLLECTION 2008 as main guest and had a small role in the movie "Yume no manimani".
After SPEED's return, Takako said that she will be focused more in SPEED projects than solo career.
On December 5th of 2008, a special dorama "252 Seizonsha ari: episode ZERO" aired. Takako played Mana and training to become a part of a special firefighters team known as "Rescue". The special had 14.2% of rating.
During December, Takako traveled to Taiwan to star in Leehom Wang music video Heartbeat which was directed by Leehom himself.
On January 4, 2009. Taka was a guest in the first radio program of the year of 石原さとみSAY TO ME!hosted by her friend Satomi Ishihara. On March 2nd, she was invited by Tokyo Fire Department as a guest for the demonstration of fire-fighting exercise.
The movie, "Umikaze ni fukarete - Hokkaido" was released on June 6th, in which Takako was part of the cast.
Takako traveled to Turkey to make a documentary about Belly Dance named Takako Uehara Turkish Belly Dance no Kokoro ni Fureru for NHK. The special was aired several times due to its popularity after the first broadcasting on September 13th. The documentary was released on DVD on February 25 of 2010.
In 2010, Taka went too Fresno, California to work in a Disney on Ice Special.
Uehara Takako no close to you comes to a end on the last week of March in which Takako's played for exclusive broadcast, SPEED's new song, Himawari -GROWING SUNFLOWER-.
In July 1st it was announced that she could be part of Korean drama "Fugitive Plan.B" in the rol of a top singer. She was well received by Koreans viewers gaining attention after they watch her acting.
On September she took part in Magazine steady x United arrows campaign "green label relaxing".
On October 5th her father passed away due to heart failure at a hospital in Okinawa, Takako immediately cancelled her working schedule and returned to her home in Okinawa.
source: SPEED is Back
Admin




Posts

: 21


Join date

: 2010-10-07




---
Permissions in this forum:
You
cannot
reply to topics in this forum